Steve Norton and I are excited to announce our new, 4th edition of the textbook Lymphedema Management; The Comprehensive Guide for Practitioners!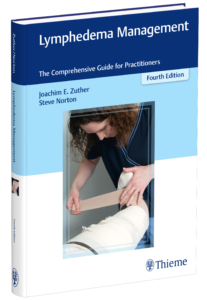 Our publisher's petition for a 4th edition was a clear indication that awareness and treatment for lymphedema are rapidly expanding in the United States and the English-speaking world. The new 600-page book continues its clean design of color-coded sections for anatomy, physiology, and pathophysiology, which are followed by an enlarged section on comprehensive treatment, patient education (self-treatment), and finally a practical section on administration for use in clinics; 225 pages and over 100 new illustrations were added to this new edition.
We are also thrilled to share that the 3rd edition was recently translated and published in Japanese and Turkish, which is very exciting since it furthers access to this expert knowledge base by reaching patients and clinicians in Asia and Europe.
This updated edition continues to be a valuable resource and guide for all levels of lymphatic knowledge. For students becoming therapists, this book is a relevant and useful source for information and training. For health professionals and researchers needing concise, clearly written and informative sections as well as seasoned clinicians in need of a quick, well-referenced guide. Patients will find this new edition useful, since it provides detailed instructions on self-Manual Lymph Drainage, self-bandaging, exercise, skin care, information on pneumatic compression, and much more.
In the fourth edition, the previous chapters have been updated by current contributors with the latest, most relevant resources and research findings; new contributors, all well-known and highly respected in the field of lymphology, added new, exciting and relevant content.
While many pages, tables and illustrations were added, the book is still kept at a manageable size.
Current contributor updates include the following topic areas:
Head and neck lymphedema,
Breast and trunk lymphedema,
Pediatric lymphedema,
Cording
Elastic taping,
CDT and obesity,
CDT for cancer survivors,
Evaluation of lymphedema patients,
Exercise guidelines,
Imaging and genetics,
Quality of life, as well as research in the field of lymphedema,
Updates on ICD-10 codes.
New contributors and topics include:

Susan Allen, OT, Dawn Brinkmann, OT, Elizabeth Harkins, PT:  Contributed a new topic entitled "Lymphedema Therapy in the Home" aimed at the growing ranks of home care focused practitioners encountering lymphedema and other combined edema with tips about the required adaptations to therapy.
Frank Aviles Jr., PT: Added a much expanded discussion on advanced wound care options as part of an integrated treatment system for the lower extremities.
John Beckwith, PT expanded his section on "Edema Solutions for Wound Specialists" with discussions on the Rationale for MLD in Wound Healing and compression while using a Negative Pressure Wound Therapy (NPWT) vacuum.
Joy Cohn, PT: Added a new section called "Fitting Garments upon delivery" which addresses the all-important transition from the intensive phase to self management phase and the critical aspects of proper fit, manufacture and function of garments as well as patient autonomy.
Jay Granzow, MD: expanded the discussion on "Surgical options as part of an integrated treatment system for lymphedema", to include vascularized lymph node transfer (VLNT), anastomosis and bypass techniques, suction assisted protein lipectomy (SAPL), combined and staged surgeries.
Karen Herbst, MD: Added a much expanded discussion on Lipedema and other related disorders (Dercum's disease, Madelung's disease).
Julie Soderberg, PT: Added a new topic related to the role of the CLT who works closely with surgeons employing specialized lymphatic procedures as a new lymphedema therapy protocol.
Nicole Stout, DPT: Added a section on "Early Intervention and Conservative Therapy" to highlight the growing importance of identifying lymphedema through prospective surveillance and modifying therapy appropriately.
Steve Norton added two news section titled "Pediatric Lymphedema and Adapting CDT to the Pediatric Patient". These sections discuss the etiology of lymphedema in children and the importance of proper diagnosis when lymphedema presents either solely or in combination with vascular anomalies. He discusses intervention with therapy which requires significant and staged modifications depending upon age, parental ability and caretaker oversight as well as the focus on and appropriate selection of each treatment modality.
Joachim Zuther expands on the section on "Sequential Intermittent Pneumatic Compression", its contraindications and how these devices may be integrated into the management of lymphedema. Sections on how a well-tailored exercise regimen can benefit the lymphedema patient are expanded on as well.
The new edition can be ordered on the LymphedemaStore website, the publishers website, Amazon and other book sellers.
Do you need more information on other topics on lymphedema? Use the "Index" list on the left side of this page and select the article you are interested in. You can also use the "Select Category" window on the right of this page and select the topic you are interested in. Once selected, a new page will load with a number of articles related to the topic you chose. Click on any headline of the articles and the entire article will load up for you to read.
Join Lymphedema Guru, a Facebook page solely dedicated to inform about all things related to lymphedema – news, support groups, treatment centers, and much more