Today I would like to make you aware of an excellent video covering the daily challenges of living with lymphedema.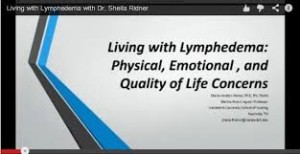 In this live stream video Sheila H. Ridner, PhD, RN, FAAN, extensively discusses symptoms and issues individuals with various forms of lymphedema experience on a daily basis.
Sheila is the Martha Rivers Ingram Professor of Nursing at Vanderbilt University School of Nursing in Nashville, TN. She is an internationally recognized scientist and expert in the field of lymphedema and lymphatic research.
Sheila and her team conducted extensive studies lo learn more about what it is like to live with lymphedema, and her research indicates that many of life's dimensions – physical, emotional, social and spiritual – can be impacted by the presence of lymphedema.
In addition to quality of life issues and the various challenges individuals affected by lymphedema are dealing with on a regular basis, a good portion of this live stream recording is dedicated to the discussion of the many tools available to building a healthier life for those of you living with lymphedema; valuable advice regarding self-care issues, nutrition, exercises and much more is provided.
In the question and answer session at the end of this one-hour presentation Sheila answers important questions often asked by patients.
As special Thank You goes out to the readers of this LymphedemaBlog, who were kind enough to assist Sheila and her team in completing the lower extremity portion of this study.
Click here to view this excellent one-hour presentation of "Living with Lymphedema" (the actual presentation starts at the 4 minute 19 seconds mark; so you may fast-forward if you wish).
Do you need more information on other topics on lymphedema? Use the "Index" list on the left side of this page and select the article you are interested in. You can also use the "Select Category" window on the right of this page and select the topic you are interested in. Once selected, a new page will load with a number of articles related to the topic you chose. Click on any headline of the articles and the entire article will load up for you to read.
Join Lymphedema Guru, a Facebook page solely dedicated to inform about all things related to lymphedema – news, support groups, treatment centers, and much more