Dear Practicing Lymphedema Therapist,
The American Lymphedema Framework Project (ALFP) invites you to participate in their second biennial online survey. The ALFP is a national initiative developed under the leadership of recognized clinical experts and investigators in the field of lymphedema. As a collaboration of health care providers, researchers, educators, patients, and industry representatives, the ALFP will develop and evaluate appropriate health care services for patients with all forms of lymphedema and advance the quality of lymphedema care both in theUnited Statesand worldwide.
This survey was developed under the leadership of the ALFP research committee chaired by Dr. Electra Paskett and co-chaired by Dr. Mei Fu with input by expert clinicians on the ALFP steering committee. The answers you provide on the survey will be used for research purposes only and are strictly anonymous. Your answers will be evaluated for statistical purposes only. Your input will assist the ALFP in understanding current practices of lymphedema care in the United States today, and will move forward the ALFP goals of evaluating appropriate health care services and improving quality of care for patients with lymphedema. As a practicing lymphedema therapist, your participation is valuable in this worthwhile endeavor. Please participate in 2011 whether you participated in 2009 or not. The survey will remain open until November 30, 2011.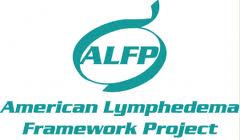 To access the survey, please go to http://www.alfp.org and click on the "LE Therapist Survey" tab on the left. This website will provide directions for completing the survey online, via email, or by mail. The survey will take approximately 20 minutes to complete. The ALFP sincerely thanks you for your participation!
Do you need more information on other topics on lymphedema? Use the "Select Category" window on the right of this page and select the topic you are interested in. Once selected, a new page will load with a number of articles related to the topic you chose. Click on any headline of the articles and the entire article will load up for you to read.