Tweet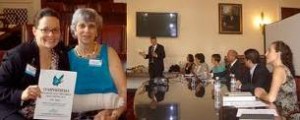 I am pleased to share with you that the brand new Lymphedema Treatment Act Website is now up and running. This important website thoroughly informs readers on the finer points of H.R. 4663, the Lymphedema Diagnosis and Treatment Cost Savings Act of 2010, which was introduced by Congressman Larry Kissel.
It also informs individuals affected by lymphedema, their caregivers, therapists, doctors and anyone whose life has been touched by lymphedema on how to get involved to help passing this bill. The site provides suggested content and instructions on how to send a letter to Congress, Representatives and Senators to ask them for their support for this important bill. There is also a link that provides a list of current members of the Congress, to include email addresses.
Please visit www.LymphedemaTreatmentAct.org  – get involved and spread the word.
I would also like to share some links to news coverage on H.R. 4662
http://news14.com/charlotte-news-104-content/top_stories/624244/mother-takes-state-health-care-fight-to-national-level
http://www.foxcharlotte.com/news/top-stories/92063454.html
Do you need more information on other topics on lymphedema? Use the "Select Category" window on the right of this page and select the topic you are interested in. Once selected, a new page will load with a number of articles related to the topic you chose. Click on any headline of the articles and the entire article will load up for you to read.
Join Lymphedema Guru, a Facebook page solely dedicated to inform about all things related to lymphedema – news, support groups, treatment centers, and much more