Tweet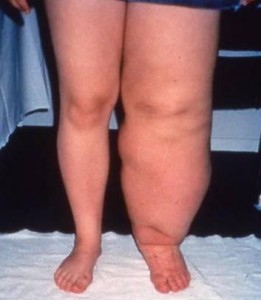 Early diagnosis and intervention of lymphedema are crucial for optimal treatment results. Whether lymphedema is caused by developmental abnormalities (primary lymphedema), or surgery/radiation to the lymphatic system (secondary lymphedema), the possible long-term physical and psychosocial burden resulting from untreated or mistreated lymphedema can be serious.
Proper treatment is available, and the classification of lymphedema into primary and secondary has little significance in determining the method and goal of therapy. The goal of any treatment is to reduce the swelling and to maintain the reduction – that is to bring the lymphedema back to a normal, or near-normal size so the patients can continue with the activities of daily living, and to limit the risk of infection.
Therapeutic approaches to lymphedema vary depending on the severity of the swelling, the degree of fibrotic tissue present and the affected body part. They range from surgery and medication to numerous conservative treatments.
For a comprehensive discussion of currently available treatment options for lymphedema, I would like to refer to an excellent article published December 2008 in the Clinical Journal of Oncology Nursing, labeled "Demystifying Lymphedema: Development of the Lymphedema Putting Evidence into Practice Card".
The authors (E.Poage, M.Singer, J.Armer, M.Poundall, M.Shellaberger) provide a comprehensive and critical review of the currently available literature in order to identify effective evidence-based treatment modalities for the treatment of lymphedema. This discussion also includes modalities without established effectiveness, and those ineffective in the management of lymphedema.
Click here for a PDF Version of this Article
Do you need more information on other topics on lymphedema? Use the "Index" list on the left side of this page and select the article you are interested in. You can also use the "Select Category" window on the right of this page and select the topic you are interested in. Once selected, a new page will load with a number of articles related to the topic you chose. Click on any headline of the articles and the entire article will load up for you to read.
Join Lymphedema Guru, a Facebook page solely dedicated to inform about all things related to lymphedema – news, support groups, treatment centers, and much more